XT-10 Multifunctions with a 360° dispensing valve. A Multi-Purpose Lubricant with 10 powerful functions: lubricating, unlocking, penetrating, protective, extreme pressure resistant, high temperature resistant, anti-seizing, water repellent, rust protection. Created with active ingredients of the highest quality, it has an ultra-lubricating, ultra-penetrating power. Perfectly suited for the workshop, at home, in the garden, in the nautical industry, industrial, sporting goods or anywhere there is a mechanism that requires maintenance.
20% Off – Limited time offer
You can purchase a case of 6 XT-10 Multi-Purpose Lubricant Spray cans by simply adding to cart.
If you prefer to mix and match different products, build your own custom 6 pack. Click the image below to get started.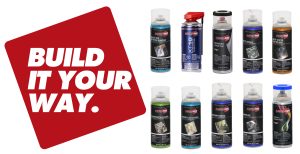 In Stock